SHIPPING POLICY
In Lieu of COVID-19, orders are being delayed. Your order could take up to three weeks to ship out. If you have not received tracking confirmation on your order within 21 days, please reach out to roorretail@roor.com so that we can assist you! If you have any questions please reach out to us for assistance! We appreciate your patience while waiting to receive your order.
We determine the most efficient shipping carrier for your order. The carriers that may be used are: United Parcel Service (UPS), U.S. Postal Service (USPS). Sorry but we cannot ship to P.O. Boxes. Please note that all orders placed during non-business hours, this includes weekends (Sundays), evenings and holidays, will not be processed until regular business hours have resumed. For a list of holidays UPS does not deliver please click here. Please allow 8-10 days for all orders to be processed and shipped. DUE TO COVID-19 NO SHIPPING ESTIMATES ARE GUARANTEE. If you're trying to estimate when a package will be delivered, please note the following: Credit card authorization and verification must be received prior to processing.
The shipping calculator at the checkout is for only determining the shipping cost. If the order is shipped via UPS. We are not liable for delays due to carrier logistics or delays in transit times from UPS or USPS.
PLEASE NOTE:
Adult signature is required upon delivery.
In state orders will be charged sales tax.
Shipping Estimated Delivery Times
UPS Ground - See Chart Below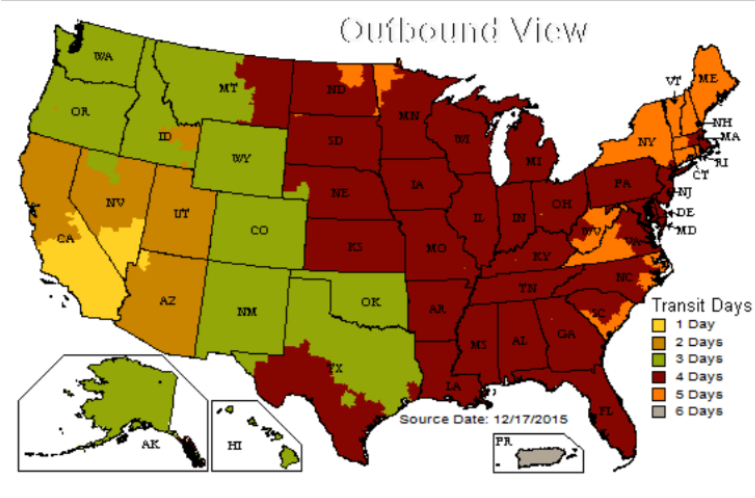 What if my package is missing, stolen or damaged?
Once your order has been shipped roor.com / Roor Retail is not liable for the package or its contents. Once you receive the tracking information it is your responsibility to monitor the package. If the package is stolen, missing/can't be found or damaged (thrown into water/snow/etc...) this is not covered under the warranty and Roor Retail / roor.com will not provide a replacement.
When will I receive my tracking number?
You will receive an email containing the tracking number as soon as the items have been shipped. Due to COVID-19 please allow 3 weeks for all orders to be processed and shipped.
What should I do if I entered the wrong shipping information?
Please remember to always double-check the information you enter when placing an order. If the information is incorrect this can cause delays/compromise package delivery. When placing an order the shipping information you provide us is the same information used as the shipping label for the package. If incorrect shipping information is entered, the package will most likely be returned to our warehouse. If this situation occurs a customer service representative will contact you to obtain the correct information so that we may send the package to the correct address. Please be aware that you will be charged for the shipping costs to resend the package.
After placing an order, you will receive an email confirming your purchase. The email confirmation will include the shipping information you entered. If you realize that the information you entered was incorrect please do the following: Contact us with the order number and confirmation email stating that the information you entered is incorrect, in the same email provide the correct shipping information. Please note that this can only be done within an hour since the order was placed.
Where does Roor Retail ship from items order on shoproor.com?
All items are shipped directly from our location in California.