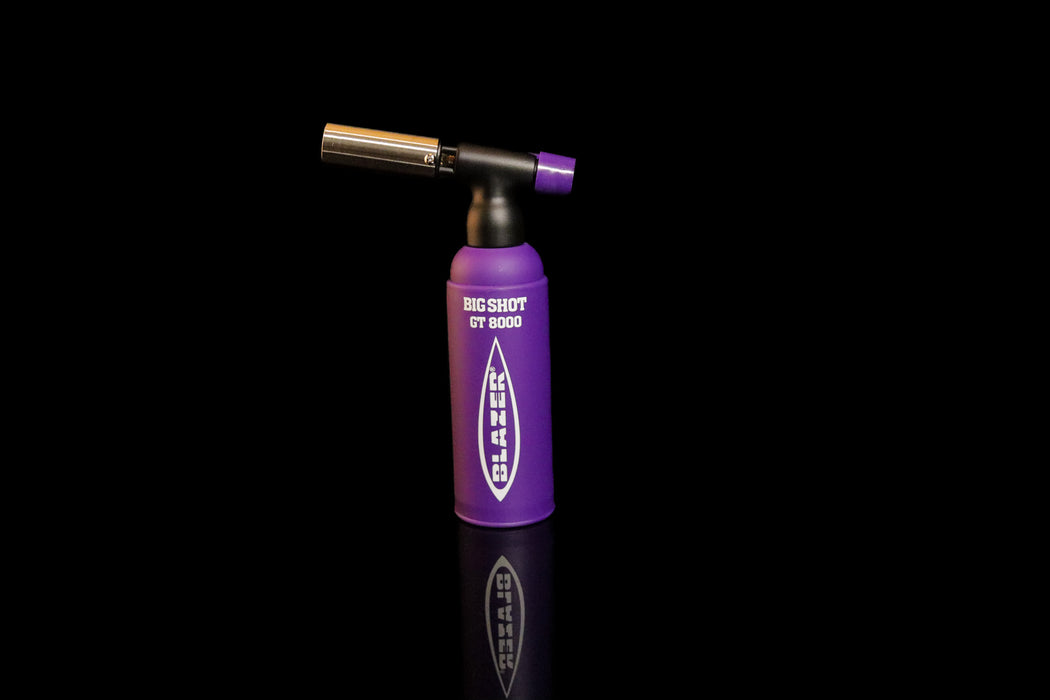 Blazer GT8000 Big Shot Butane Torch Limited Edition Purple
Limited Edition Black and Purple The Blazer GT8000 Big Shot butane torch is a refillable gas torch with a brass frame nozzle and attachable base. The torch creates a precise flame, emitting from a nozzle head, allowing direct heat application to an object. It is used for detailed purposes such as brazing, plumbing, soldering, jewelry making, and culinary, dental and lab applications.

The GT8000 has an anti-flare, brass frame nozzle for safety and flame control. Its design is intended for a low blow-out rate when held in various positions, or where access is difficult, or space is limited. Its head is angled, and it comes with an attachable tabletop base for hands-free work. It features a gas-flow adjustment dial to control flame length. The torch houses a piezoelectric ignition system based on a pressurized molecular reaction and requires no electrical connection. Piezoelectric energy occurs when the trigger is activated, releasing a small, spring-loaded internal hammer that strikes a crystal, producing a spark and resulting in gas flame ignition.

With a maximum flame temperature of 2,500 degrees F, the GT8000 has a continuous burn time of approximately 35 minutes at maximum fuel volume and has a 35-gram gas capacity. The torch has an angled head, and its flame range is 1.25 to 5.0 inches. A safety component offers a manual ignition lock when not in use.
Includes: 
(1) Blazer GT8000 Big Shot Butane Torch Limited Edition Purple
Shipping is 8-10 days ground shipping only.
Note some items cannot be shipped to certain destinations due to product restrictions and regulations. We will inform you during checkout or refund any items that cannot ship with your order.

!WARNING This product can expose you to chemicals including arsenic, which is known to the State of California to cause cancer. For more information, go to www.P65Warnings.ca.gov
The product photos shown on this site are representative colors. Actual colors may vary from the images shown for the following reasons:
Like any dyed product, the dye shades may vary from one production run to the next.
The color may appear different in various lighting conditions (e.g. sunlight vs. fluorescent light).
Your individual monitor settings can cause the appearance of the color on the screen to differ from the actual photograph.