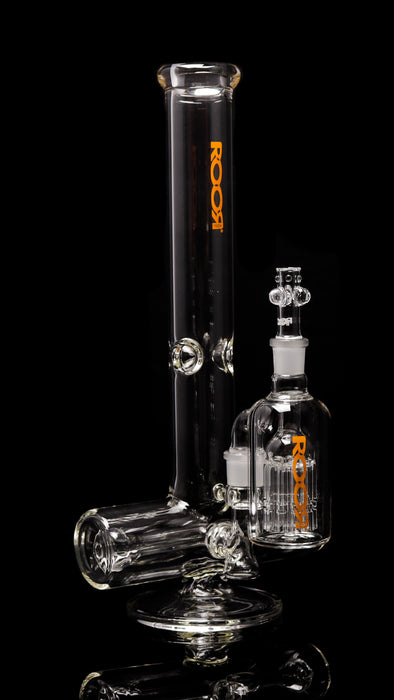 Collectors Set - ROORTech® Inline 18" 50x5mm & Matching 10 Arm Ashcatcher ($100+ Savings)
Exclusive ROOR Tech Collector Set. if you find the smoke from regular hits too harsh and you are looking for a cooler and smoother hit this combo set is the right buy for you.  
The ROOR® Tech 18" Inline was redesigned in 2017 to give a new look to this classic tech piece.
Made from 50mm x 5mm German Duran Schott glass still the same great hit with a new design. ROOR® Tech took that original straight-line horizontal tube with slits and made a few adjustments for maximum percolation, the ends have been flared out to allow more water therefore more diffusion per hit.
The 2017 Tech line has been fitted with built-in ash-catcher / reclaim, depending on each individual smoking style. The new inline still has the classic ice-pinches allowing the option to cool each hit, complete with an 18.8mm joint complete with the 18.8mm male bowl with built in glass screen.
The collector's set includes the ROORTech 10-arm tree perc ashcatcher stands about 5 ¼" tall with a 60mm x 5mm German Duran Schott Glass body and an 18.8mm bistable male joint to 18.8mm female bistable joint. This style features a 90-degree angle arm.
Adding the extra layer of water filtration that makes your piece hit cooler and smoother. Also keeping your pipe cleaner for longer and easier clean up.
Includes:
(1) ROOR TECH® 18" Inline 50mm x 5mm thick clear * choice of decal to match inline & ashcatcher.

(1) ROOR TECH 

®

 

Ash-Catcher 60mm x 5mm, 

(1)

 ROOR® Box

(2)

 Authentication Seal

 

*Attached to Tubes
Production/Shipping Estimate 2-5 weeks.
The product image serves only as an example. The colors and arrangement of the color applications may differ due to the handcraftsmanship. We reserve the right to give our glass artists creative freedom, which is the only way to ensure the creation of the highest quality unique glass specimens.
!WARNING This product can expose you to chemicals including arsenic, which is known to the State of California to cause cancer. For more information, go to www.P65Warnings.ca.gov