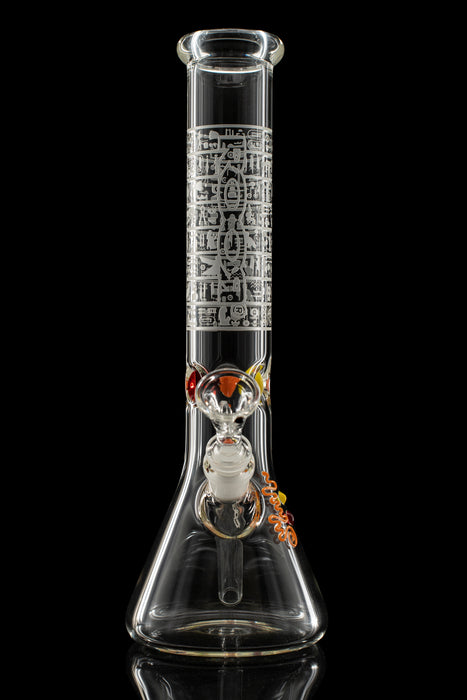 ROOR® 12" Beaker 50x5mm HIEROGLYPH Sandblasted Design
Brought to life by the ROOR US factory by popular demand for a shorter option. ROOR® is happy to introduce the 12" beaker made with 50mm x 5mm Schott Boro Artistic Glass tubes. Small piece with a huge impact on any glass collector
Each ROOR® beaker tube proudly displays a unique signature. The ROOR® beaker has been scientifically proportioned to make each use an easier pull with more diffusion and provides more smoke per draw.
Each classic ROOR® beaker has built in ice pinches allowing the option of the addition of ice to cool any hit. To ensure a perfect hit each time this piece is used, every downstem is hand measured and cut to each individual piece.
Ice pinches are available to choose from single color RED or Multi-color mixed colors based on availability.
Includes:

(1) ROOR 12" beaker base 50mm x 5mm thick with Sandblasted logo style design Hieroglyph. 

(1) ROOR® Box

(1) ROOR® Authentication Seal *Attached to Tube
Production/Shipping Estimate 2-5 weeks.
The product image serves only as an example. The colors and arrangement of the color applications may differ due to the handcraftsmanship. We reserve the right to give our glass artists creative freedom, which is the only way to ensure the creation of the highest quality unique glass specimens.
!WARNING This product can expose you to chemicals including arsenic, which is known to the State of California to cause cancer. For more information, go to www.P65Warnings.ca.gov