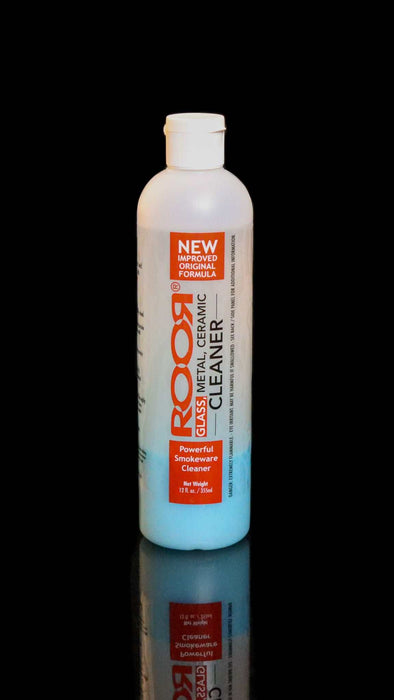 ROOR® 12 OZ. Bottle Smokeware Cleaner
ROOR® 12 oz. Bottle Glass, Metal, Ceramic Cleaner.
This Powerful Smokeware ROOR® glass cleaner is a fast acting new improved original formula that requires no scrubbing and leaves glass shining and looking like new in minutes.
The ROOR® glass cleaning formula works in even the most built up residue. Powerful Scrubbing Particle Solution
Includes:
ROOR® 12 oz. Bottle Glass, Metal, Ceramic Cleaner Bundle of your choice
Ground Shipping Only Estimate 1-2 weeks.
!WARNING This product can expose you to chemicals including arsenic, which is known to the State of California to cause cancer. For more information, go to www.P65Warnings.ca.gov 
CAUTION: 
Extremely Flammable   
Eye Irritation
May Be Harmful If Swallowed. 
Keep Away from Flames and Other Sources of Ignition. Vapors Flammable. Use In Well- Ventilated Area.
If Eye Contact Occurs Rinse Thoroughly with Water For 15 Minutes. Seek Medical Attention If Irritation Persist.
If Swallowed Do Not Induce Vomiting. Immediately Contact a Physician or Poison Control Center.
 Contains Acetone and Nonionic Surfactants.
Store In Cool Place Away from Sources of Ignition.
Keep Out of Reach of Children.
IMPORTANT: May Damage Plastics. Not For Use on Plastics, Vaporizers, Or Acrylic Parts of Products.