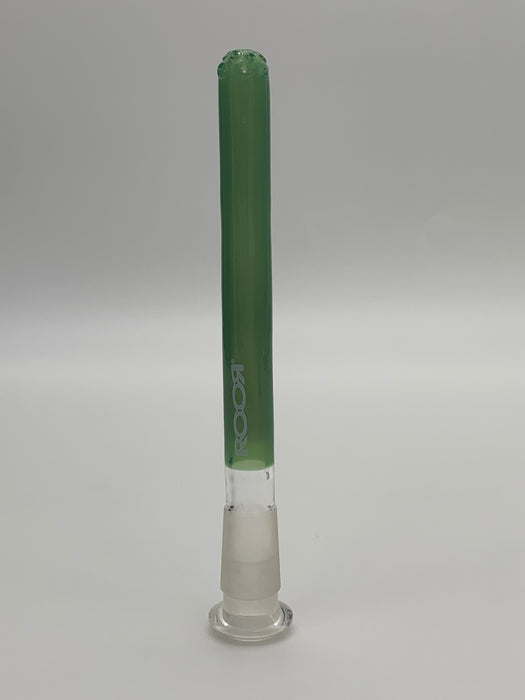 ROOR® 13- Hole Diffused Low-Profile Downstem Green 5¼"
ROOR® Reducing Low-Profile Diffused Downstem Green. Made to fit Roor tubes with a female joint of 18mm, downstem reduces to fit 14mm bowls.

Will also fit most tubes that have an 18mm female joint. if you don't own a ROOR but have a tube that has an 18mm joint you can still own this beautifully crafted stem to measure your necessary downstem length see diagram and tips below for measuring tips.

This single low-profile 13-hole diffused downstem measuring 5¼" made with green color glass.

Includes:


(1) ROOR® Reducing Low-Profile 18.8mm → 14.5mm 13- Hole Diffused Upgrade Downstem Green measures 5¼"


Tips:
Every downstem is hand-measured and cut to each individual tube. If you owned a beaker or straight here are the best possible sizes to order for your tube.

ROOR® Classic Straight tube typical lengths that will fit 3 ¼" to  4" size changes in ¼" increments.

ROOR® Classic Beaker tube typical Lengths that will fit 4 ¾ " to 6" size changes in ¼" increments.

Recommendations based on the average use of sizes for specific pieces are not a guarantee. The best way to know is to keep the original size of your downtem in your records if possible. for assistance, you can reach out directly to ROOR at sales@roor.com for downstem sizing support. 

The product image serves only as an example. The colors and arrangement of the color applications may differ due to the handcraftsmanship. We reserve the right to give our glass artists creative freedom, which is the only way to ensure the creation of the highest quality unique glass specimens.


! WARNING This product can expose you to chemicals including arsenic, which is known to the State of California to cause cancer. For more information, go to www.P65Warnings.ca.gov