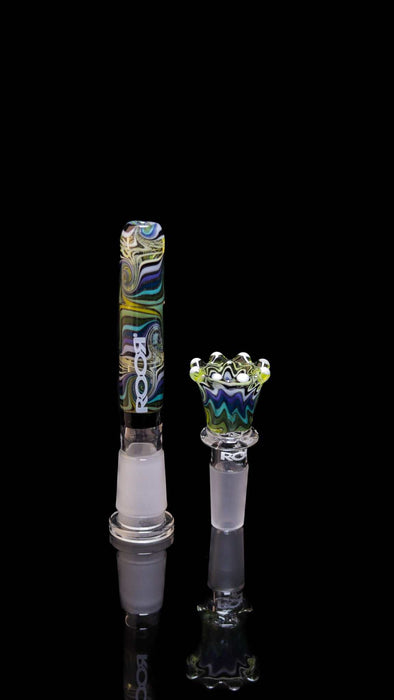 ROOR® CrownTini Color Worked Set 3 1/4"
ROOR® CrownTini Set 
This beautiful handmade set of a color-worked open-ended low-profile downstem with a matching color worked pearl dot bowl. A great addition to any collection.
The downstem joint is 18.8mm where the 16mm Duran Schott Glass diameter downstem meets the tube. The Joint where the bowl is inserted measures 14.5mm and will fit with any 14.5mm male glass joint bowl. This set is recommended for Straight tubes that can fit 3 1/4" downstem.
Set Includes: 
(1) ROOR® Color Worked Reducing Open-Ended Low-Profile 3 1/4" Downstem 18.8mm → 14.5mm.
(1) R

OOR® Color Worked 14.5mm Bowl.



Production/Shipping Estimate 5-12 days.
The product image serves only as an example. The colors and arrangement of the color applications may differ due to the handcraftsmanship. We reserve the right to give our glass artists creative freedom, which is the only way to ensure the creation of the highest quality unique glass specimens.
Standard ROOR® Downstem Sizes are as follows, however, ROOR® always recommends that you measure your downstem when you buy your tube so that you always know your perfect length.
 Standard Classic Straight Tube ROOR®  usual fit Lengths 3" – 4 3/4" 
Standard Classic Beaker ROOR®usaul fit Lengths 5" – 6"