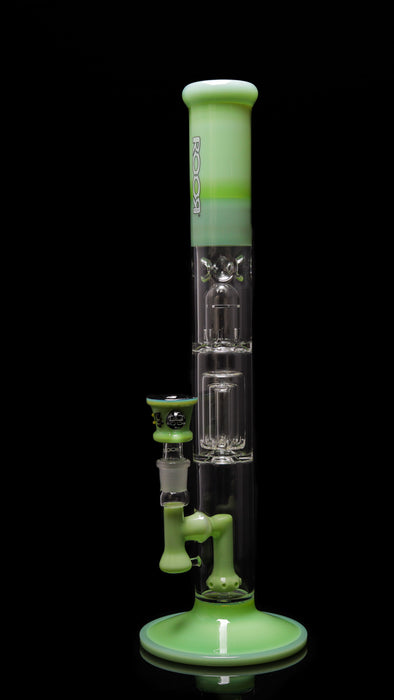 ROOR® Tech Fixed 18" Straight 50x5mm Barrel Perc Milky & Mint Marble Color Bowl
This ROOR® Tech 18" stemless fixed straight tube was redesigned in 2017 to allow a new look for the ROOR® Tech line. Made from 50mm x 5mm German Duran Schott glass. ROOR® Tech took that original ROOR® 18" straight tube with the Classic ROOR® Tech Barrel Perc on the top chamber and made the lower percolator similar to the original ROOR® Beaker body with slits on the bottom for maximum airflow and percolation. Topped off with a 30mm splash guard and ice-pinch for zero splash.
The entire 2017 Tech line have been fitted with built-in debris catcher. The new fixed stemless 18" straight is complete with an 18.8mm joint and the 18.8mm male bowl with built in glass screen.

Includes:

(1) ROOR® Tech Fixed 18" Straight 50x5mm with Barrel Percolator with Milky and Mint Color (White with Black Outline Decal)

(1) ROOR® Dicro Marble Color Bowl 14mm Signature Edition

(1) ROOR® Box

(1)

 Authentication Seal

 

*Attached to tube
Note:
Item in picture ROOR® Tech Ash-Catcher 18.8mm Joint 90° Arm Style (10A90) NOT INCLUDED. 
Production/Shipping Estimate 2-5 weeks.
The product image serves only as an example. The colors and arrangement of the color applications may differ due to the handcraftsmanship. We reserve the right to give our glass artists creative freedom, which is the only way to ensure the creation of the highest quality unique glass specimens.
!WARNING This product can expose you to chemicals including arsenic, which is known to the State of California to cause cancer. For more information, go to www.P65Warnings.ca.gov