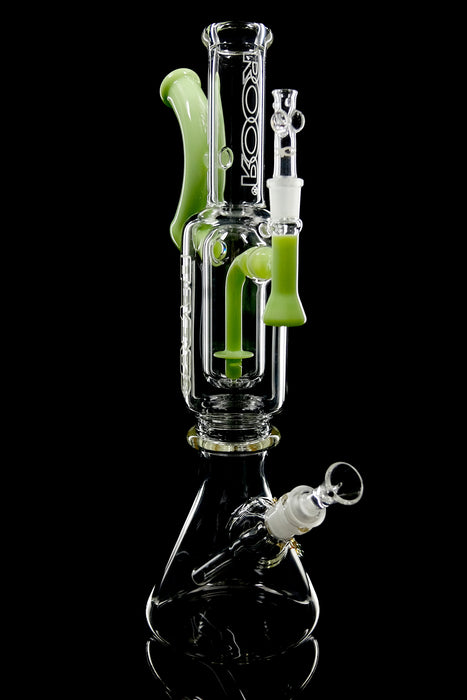 ROOR® X 1130 Beaker Green
The ROOR® x Eleven30 Glass Beaker Collab stands at about 16" tall.
Made of 50mm x 5mm 5 ¼" wide base and 50mm x 5mm mouthpiece and 75mm middle section for the completely enclosed secondary chamber which prevents any cross flavors, allowing for a great taste for any smoker's preference.
This dual-purpose piece has a 14.5mm female joint with built in reclaim for the encased two-hole percolated rig. The outer tube comes with an 18.8mm joint and
18.8mm – 14.5mm open ended reducing ROOR® downstem.
This is the perfect piece for any collector.
Includes:
ROOR® 1130 Beaker Green
ROOR® Low profile 18.8mm/14.5mm open ended downstem (upgrade option)
ROOR® Medium Funnel Bowl
ROOR® Box
ROOR® Authentication Seal *Attached to Tube
Production/Shipping Estimate 2-5 weeks.
The product image serves only as an example. The colors and arrangement of the color applications may differ due to the handcraftsmanship. We reserve the right to give our glass artists creative freedom, which is the only way to ensure the creation of the highest quality unique glass specimens.
!WARNING This product can expose you to chemicals including arsenic, which is known to the State of California to cause cancer. For more information, go to www.P65Warnings.ca.gov