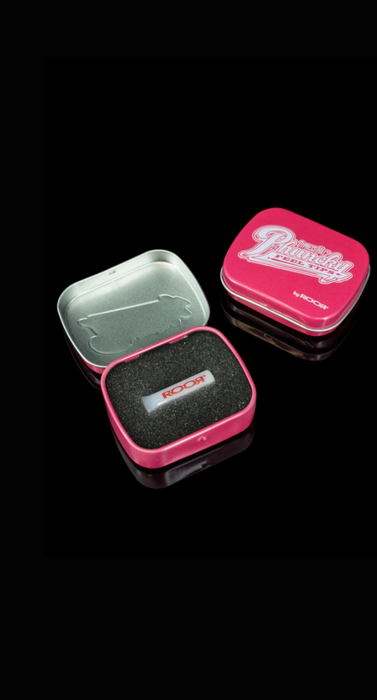 ROOR Pink Collector Tin with 9mm Color Glass Plus Tip
Cypress Hills Phuncky Feel Tips!
Stamped with our Roor logo, wrapped comfortably, and displayed in a pink flip top tin for continuous use and safekeeping. Our tips are crafted from German borosilicate glass, making them durable and easy to clean. Never get caught rolling without these one of a kind tips that are designed to allow clean hits and a smooth burn all the way to the end.
ROOR Pink Collector Tin with 9mm Color Glass Plus Tip. Each ROOR Collector Tin includes a single tip. Tips are hand made using 9mm diameter color Glass.
The ROOR Glass Plus Tip is a reusable glass tip with a crosscut design at the base to help catch debris and prevent soggy paper before the end of any smoke sesh.
Includes:
Cypress Hill's by ROOR Pink Collectors Tin Case

ROOR® Glass Plus Tip Color
NOTE: Assorted decal styles, colors and tip design (flat or round) based availability. 
Production/Shipping Estimate 2-5 weeks.
The product image serves only as an example. The colors and arrangement of the color applications may differ due to the handcraftsmanship. We reserve the right to give our glass artists creative freedom, which is the only way to ensure the creation of the highest quality unique glass specimens.
!WARNING This product can expose you to chemicals including arsenic, which is known to the State of California to cause cancer. For more information, go to www.P65Warnings.ca.gov