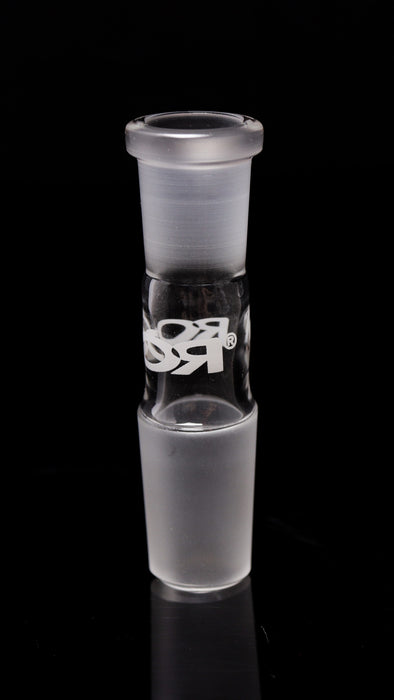 ROOR Reducing Adapter 18.8mm>14.5mm
Borosilicate Glass Straight Adapter Male 18.8mm > Female 14.5mm
This 14.5mm female to 18.8mm male glass adapter will convert any standard 18.8mm glass water pipe downstem joint to fit a 14.5mm male oil dome or herb bowl.
You just place the adapter in the 18.8mm female joint of your piece and place your bowl or dome in the adapter, and you are ready to go.
This straight adapter is a real must have for all those who enjoy smoking but have a collection where an adapter is a must.
Includes:
(1) 

ROOR®Reducing Adapter male 18.8mm>female 14.5mm
Production/Shipping Estimate 4-12 days.
The product image serves only as an example. The colors and arrangement of the color applications may differ due to the handcraftsmanship. We reserve the right to give our glass artists creative freedom, which is the only way to ensure the creation of the highest quality unique glass specimens.
!WARNING This product can expose you to chemicals including arsenic, which is known to the State of California to cause cancer. For more information, go to www.P65Warnings.ca.gov